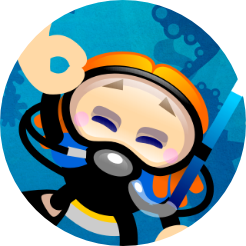 I am Chris… pixelpusher, vectorbender, and quadturner for a long, long time… I started out doing sprites and digital art on the Commodore 64  (calculating sprite values and using a joystick to draw on the small TV screen in my room).
I went on to illustrate games for Amiga, early PC and Atari ST including "St. Thomas", followed by a long line of flash games for TV station promotions. In 2005 "HeliAttack 3" was developed with Chris Rhodes and went viral (before the term was coined). Pixelart and vector based art for mobile and handheld games followed including a PSP and Nintendo DS version of "Impossible Misson", a game I was passionate about back in the high school days playing on the C64.
More recent releases include "The Adventures of Shuggy" for Xbox Live Arcade with Smudge Cat games and a bunch of iPhone/ iPad games and templates with my mate Darren from Utopian Games as well as "Super Crossbar Challenge" with Shattered Box and .io games with Ovaplay.
These days I enjoy writing my blogs and recording video tutorials on game art creation for beginners and the "artistically challenged".