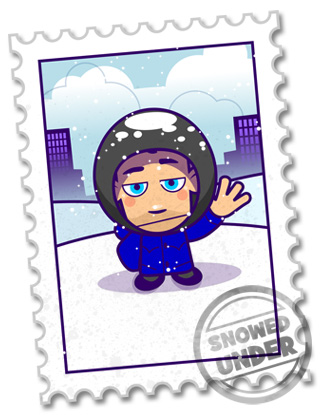 It's been a while… I haven't posted for a lot longer than I realized. Resulting in a missed spike in traffic when a news site picked up the helicopter tutorial. I barely kept up with the comments due to health problems, too much work, too much fun, too much happening in real life. Surely, I am sure I can find another lot of excuses why I haven't written a new tutorial for a while… but… they will keep coming… I haven't given up on the never-ending quest for better 2D game art. :)
For now, I am snowed under in the true sense of the word. I woke up to a white world outside my window. It started yesterday with a little bit of a white cover but this morning I woke up to 5 cm of snow on my balcony and a good 15 cm (plus) outside. I know – that's nothing for you guys in Canada or other 'polar' regions – but way more than enough for me.
I made my way through perfectly white and fluffy snow (for the 2 minute 'polar expedition' from my flat to the office) for a cup of coffee.
A horrid time to run out of coffee at my place – and it keeps on snowing…