Affinity Designer
Review
I want to share the first experience I had with the beta version of Affinity Designer by Serif. The tool has been out for Mac for a while (there is a free trial version available as well as purchase version for £39.99). It has received much praise as an alternative to Adobe Illustrator. Serif released the beta version for windows a few weeks ago.
https://affinity.serif.com/en-gb/designer/
The free public beta version for windows can be found here:
https://affinity.serif.com/en-gb/windows/
I tried version 1.5.0.5 on my Windows SurfaceBook and am quite impressed with the ease of use. The features provided by the program are great.
First Impression
If you have been working with any vector design tool before (Illustrator, CorelDraw or Inkscape) the basic set of tools will look very familiar.
The toolbar at the top has three unique icons though. The tool lets you switch between a vector design mode [draw persona] and pixel paint mode [pixel persona] and the batch export [export persona]. Next to those are tools to help you arrange, layer, snap and combine your shapes. All the icons are pretty clear and there is a tooltip when you hover over an icon for a little longer.
The UI elements matched the resolution of my laptop. At a resolution of 3000×2000 pixels, in my Microsoft surfacebook's standard mode, Illustrator and CorelDraw make it hard to select nodes and node handles. They become very, very small and are not scaled when zooming in. Like Inkscape Affinity Designer scales these nicely to make it easy to select and modify the objects. All input displays are scaled and big enough to read.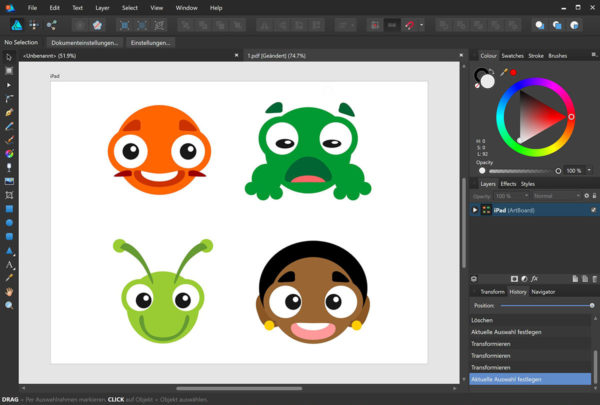 The toolbar on the left hand side has your usual tools. In vector mode it allows you to allow you to move objects, change the canvas, edit nodes, or edit corners. There is tool for different types of drawing, edit the fill and the transparency. Preset standard objects (rectangles, circles, rectangles with rounded edges and a nice set of predefined shapes ranging from triangles to hearts, arrows and even editable cogs) can be selected from here.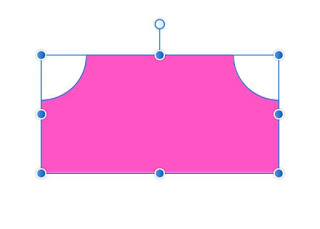 Note:
I really liked the canvas setting as it offered a choice of device-specific settings such as iPad, iPad pro or iPhone 6.  It's a very helpful feature when designing a full-screen layout. The background illustration matches the desired proportions and sizes from the start. 
Features:
Another nice feature is the corner tool allowing easy modifying of the corners of a node. It offers 5 different shapes from plain to rounded and rounded inverse to steps. The amount can be quickly altered by dragging a marker or by entering a value.
To the right you have your colour panel (with the HSL colour wheel as preset but more schemes to pick from), swatches to help you organize frequently used colours, strokes to define the outlines and brush settings.
The layer panel underneath is very user-friendly. Showing preview icons makes selecting elements via the layers panel easy. Affinity Designer offers the essential tools you need when working with layers, such as locking and hiding elements or layer groups for easier handling.
The bottom right holds another panel for transforming, showing and editing your history and navigating the display area.
Here's the resulting illustration while trying some of the frequently used features. I was combining objects, using gradient fills, opacity and opacity gradients. Overall, I was impressed by how easy it was to use the tools and modify the design.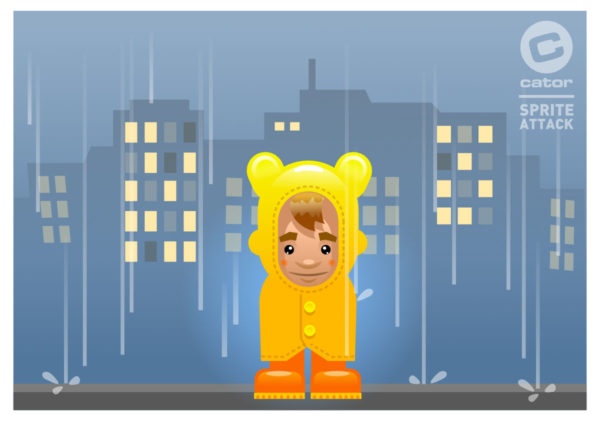 Note:
To me, the shortcuts are the key to working with a tool efficiently. Affinity Designer has some shortcuts set in unusual ways like the duplicate on CTRL + J. Those can be altered quickly in the settings to fit your own needs and habits.  
To sum it up:
I will definitely spend more time using this tool. I want to explore the more advanced features. As far as creating illustrations and artwork for games, the program has convinced me. Its ease of use and the good quality of exporting the artwork to bitmaps is excellent. The results can easily be used inside the game engines.
I will write a more complete review with the pros and cons once I scratched more than just the surface. A comparisons to the tools I have been using in the past would be nice.
Eventually, I will cover some of the tools and the workflow of Affinity Designer on this blog in the future. It's very easy to use this program. It offers a large set of tools ideal for creating vector graphics and illustrations.
Finally, let me know in the comment section if there is any interest in covering more on Affinity Designer.
Note:
Affinity Designer is being frequently updated. The newest version might already be different from the one I base this initial post on.