Cute and colourful character design in Affinity Designer
Affinity Designer Video Tutorial
This video tutorial is on the design of a cute and colourful character in Affinity Designer. I had some fun with shapes, turning into cute eyes, and finally a head. It was fun and before I knew it, I had a blue guy looking back at me. So, I decided to do a similar design and record it. I have done a few shorter/ quicker designs prior – 10 to 15 minutes but never more than that. It was not 'straightforward' and there are a few 'dead ends' – undo is your best friend. Mistakes happen and this time I didn't edit them out. The video captured the whole 45 minutes I worked on the purple character. I compressed it to 10 minutes. I hope you enjoy it!


Starting with simple shapes
When creating designs from scratch I find it easiest to work with basic shapes like circles and rectangles. Sometimes it's one choice that defines the process. With this character, it was the colour of the eyes and the initial green circles behind the eyes that led to the design. Even though these concepts look more refined than quick scribbles, they serve the same purpose: put initial ideas on the paper/ screen. Treat them as such. Don't get lost in too much detail. I like to do some soft shading as it gives the design a very different mood compared to 'plain vectors'.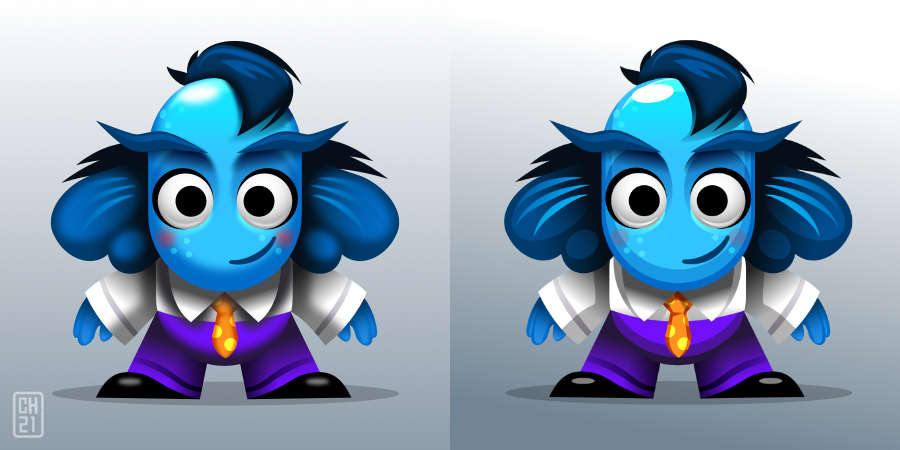 As with the previous timelapse, there are a lot of little issues to address. I can see them looking at it while I am publishing it. The staff could do with a bit more depth, the mouth would benefit from a little more time, as well as the hands. It might look cool to try some hair on the head and some pattern/ dirt on the clothes. Yet, it's a very different feel when sitting down and work while the recording is running. I am still getting used to it. Maybe after another one or two of these 45 minutes creations, I will relax a little more and make fewer mistakes. Bare with me!

I hope you enjoyed this video on the creation of this colourful alien character in Affinity Designer. Please like the video, subscribe to my channel, and leave a comment to let me know what you would like to see.
Ultimately, this video might inspire you to cry doing some design of your own. Characters, plants, vehicles, or spacecraft – it doesn't really matter. Do it! Experiment and see where the process takes you. Most of all, have fun! Lots of it!
Enjoy!


I ended up doing a timelapse for a prop, a nice-looking tree to go with the character. Have fun!