Creating a game character – from vector to pixel
Affinity Designer and PixelOver video tutorial
This tutorial shows a quick way of creating your own game character – from vector to pixel – using Affinity Designer and PixelOver. 'PixelOver' – (by Deakcor) is a handy tool to convert high-resolution art to pixel art with ease and comfort. I will show you have to create a simple game character from basic shapes. Using circles and rectangles in Affinity Designer [or any other vector tool like Adobe Illustrator, CorelDraw, or Inkscape] is a fast and editable way to create initial designs. PixelOver can turn these into a nice pixel output by reducing size and colours, as well as adding filters, adjust palettes and controlling the dithering. Affinity Designer's 'Pixel Persona' allows me to touch up the output and do a final polish. Any other pixel tool will work as well. Use what you feel comfortable with.
Let's take a look at the process:



This character test started the video tutorial. After having started looking into PixelOver, I was looking for the ideal test. Nothing is more important in most games than the characters in them and I love to create characters. So, I tried to combine the two – creating a simple game character in vector and taking it to pixel using Affinity Designer and PixelOver.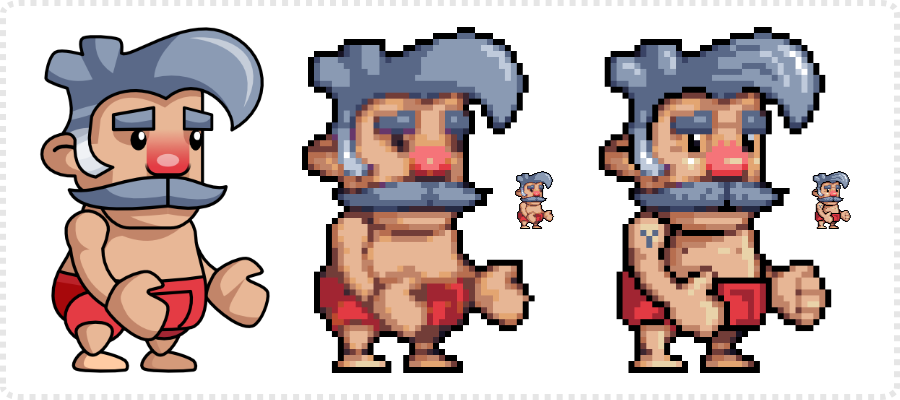 I had a lot of fun creating this character – even while trying to make it work for the video. Let me tell you, it's a lot more chaotic when I am not recording. Surprisingly, most of the detail staying readable or at least recognizable when scaling down to a height of just 64 pixels. The work on the pixel level [something I really enjoy as it feels very peaceful and satisfying] could always be pushed further. For example, I didn't work on the palette but chose a set palette, didn't explore more filter or dithering options. Yet, I think he turned out alright and might make a nice non-playable character.


A quick conclusion after creating a game character from vector to pixel
There are lots of ways to create game-art and especially game characters. This one turned out to be faster than expected as there was no need for much editing on the pixel level. It might seem like overkill for a single game character to do a complete vector setup. Yet, how often do you need just one character? I usually need a dozen at least to bring variation to the game – a lot more when you go down the RPG path with NPCs and player spriters or interactive stories.
Ultimately, it depends on your workflow, your in-game size, and the quality you aim for, but I found this combination of tools ideal. It's very easy to use [both tools] and flexible.
I hope you enjoyed the tutorial and found it helpful. It was fun creating this one [even though I am still struggling with the audio side of it. I might have to change my setup and would be thankful for some tips].
Have fun creating your own game and game character!
You can find out more on PixelOver here:
https://pixelover.io/