Creating your own Embroidery Brushes in Affinity Designer
Affinity Designer Video Tutorial
In this video tutorial, I create textured intensity and textured image brushes with an embroidery stitch effect in Affinity Designer. Ideally, this video is for Affinity Designer users with basic knowledge about brushes, FX, the pen tool, and the node tool.  By using multiple strokes in two different groups, I create a segment of threads that have a 3D look through Bevel, 3D, and an outer shadow. Next, I export the designs to PNG to create seamlessly repeating brushes in Affinity Designer. The Brush panel lets you set up new brush categories and new brushes.
The vector brushes for Affinity Designer can be found on my gumroad page.






In this video tutorial, I show you how to create seamless embroidery brushes in Affinity Designer. Using just strokes, I create a pattern of threads using the pen tool and added FX to be used as a Textured Intensity and Textured Image Brushes in Affinity Designer's Vector Persona. I reuse and refine the initial design and quickly make variations with different stitch patterns. I hope you enjoy this video!
FREE seamless vector embroidery brushes for Affinity Designer
If you want to play around with the stitch brushes, I uploaded the pack to my gumroad page as a FREE download.
Download it here. Just enter a 0 [zero] in the price field to get the file for free.
Note:
After being told, that my files are not really free but asking for money. I would like to quickly clarify that. I am using gumroad to manage the files for me, allow easy updates, and inform people who downloaded my files of similar offerings they might be interested in. This is the way it's set up by gumroad, not by me. There is no simple 'Download for free'-button as far as I know – otherwise, I would have added it.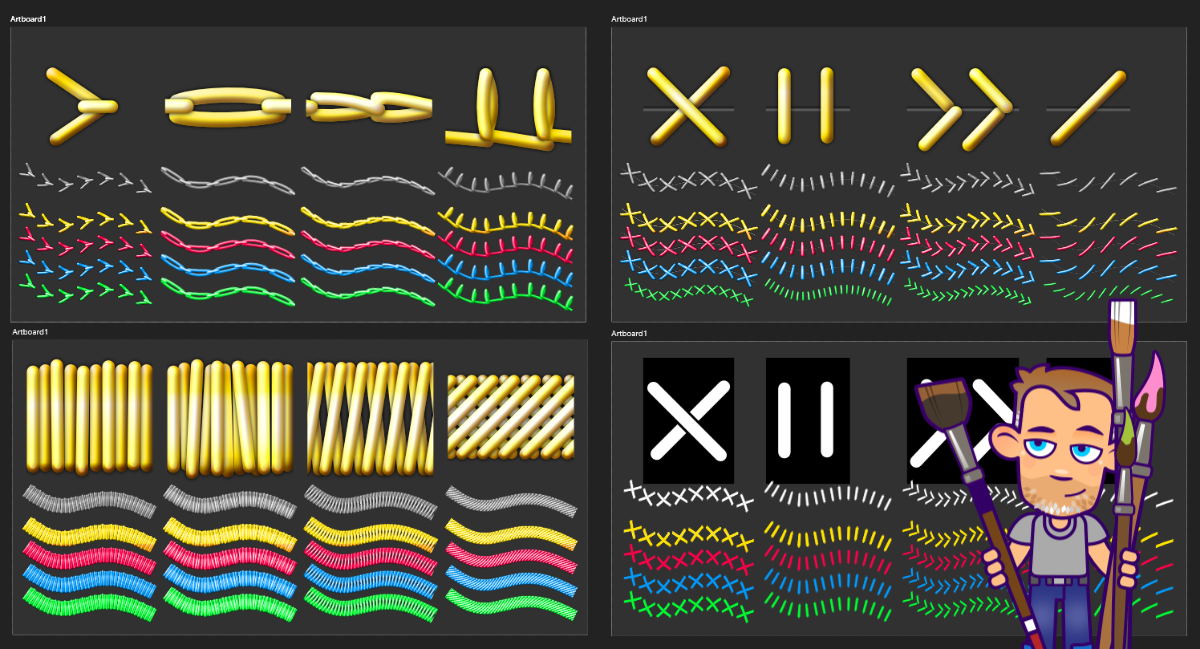 I hope you enjoy this video. Play around with brushes and let me know in the comments what you came up with! It doesn't have to be embroidery stitches. There is a lot of fun in brushes and brush creation.
As always, your feedback is very important to me! Let me know what you think about the video or what you would like to see on the blog.