Creating Mandalas with the Shape Builder Tool in Affinity Designer v2
Affinity Designer Video Tutorial
I wrote a step-by-step tutorial on mandala designs using symbols a while back. In this video, I take these steps and add the new shape builder tool in Affinity Designer v2 to create interwoven/ intertwined patterns. The lines run under and over each other in the symbol as well as between the symbols. The effect looks very complex and is not quite as difficult as it seems.
That said, this is not a beginner's tutorial. It's helpful to understand the basics of Affinity Designer, layers, the node tool, pressure curves, and symbols. In order to bring the length of the video down to a reasonable time, I had to speed up some parts [and as a result, not every click is clearly visible]. I tried to make up for it by uploading the source files to my gumroad page.



FREE Affinity Designer v2 mandala designs
I uploaded the source files with all the groups and layers in them to my gumroad page as a FREE download. There are two designs from the video and a third one added in a slightly different style of a wreath. Get the files here. Just enter a 0 [zero] in the price field to get the file for free.
Note:
After being told, that my files are not really free but asking for money. I would like to quickly clarify that. I am using gumroad to manage the files for me, allow easy updates, and inform people who downloaded my files of similar offerings they might be interested in. This is the way it's set up by gumroad, not be me. There is no simple 'Download for free'-button as far as I know – otherwise, I would have added it.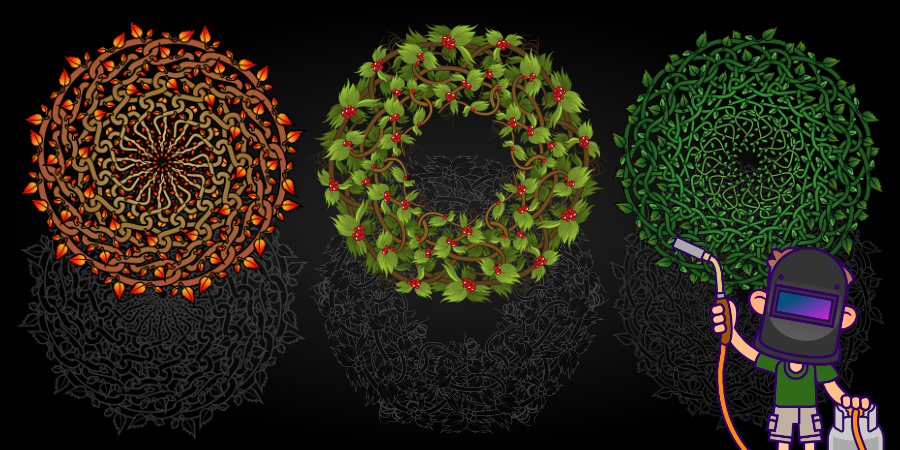 I hope you enjoyed the video. I had a lot of fun with it. Once you get the head around the intertwining [above and below] and the 2 shapes needed for it, it's rather easy and very effective. Hopefully, it gives you some ideas for designs of your own. Enjoy and let me know in the comments what you think! Your feedback is important!