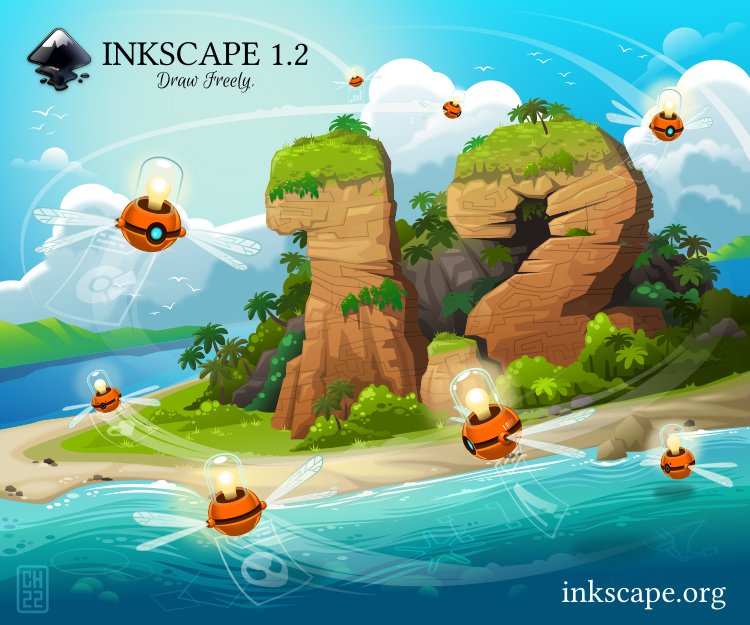 The island 1.2 won the Inkscape About Screen contest and is now the 'face' of the new version. The Inkscape team decided to have an 'interview with the artist' and put it up on their site a few days ago.

Congratulations to Chris Hildenbrand, the winner of the Inkscape 1.2 About Screen Contest, held this year, 2022.
We recently caught up with Chris to ask a few questions about himself and his use of Inkscape.
Inkscape: Please introduce yourself to the Inkscape Community. Who is Chris and where in the world do you live?
Chris Hildenbrand (Chris): I grew up in Germany but was lucky enough to end up in tropical far North Queensland in Australia. I am calling Cairns home now – where the reef meets the rain-forest.
Inkscape: When did you first discover Inkscape? Please explain how you came to use Inkscape.
Chris: Expecting an 'old man' to remember something that long ago is a big ask. It would have been about 12 years ago (maybe more). I was looking for an alternative to the rather expensive vector design tools for simple step-by-step tutorials teaching programmers game art. The initial tutorials were geared at the 'I can't draw a stick man'-crowd and the approach to 'build' their art and assets for their games using simple shapes.
Inkscape: Do you use Inkscape exclusively, or do you use other software in your work flow? If so, which software and why is that?
Chris: As much as I would say Inkscape is the 'one and only' tool for me, the truth is, it's one of the many programs in 'my toolbox'. I started out doing pixel art on my first computer back in the 80s and I still have a soft spot for good pixel art. Back then I used DeluxePaint on the Commodore Amiga. Now it's a wide spectrum of tools for different aspects of pixel art. I started vector design using CorelDraw for print material and stuck with it for decades before eventually adding Adobe Illustrator to allow easier workflow with teams and printers.
Then Inkscape came into the mix and I enjoy the free and open source approach and love to write and record videos for it. Lately I've switched to Affinity Designer. The UI and tool set works really well with my workflow of vector shapes with smooth shading, soft blurs, transparent gradients, and lots and lots of clipping masks. I am frequently checking out new tools and apps to see what is out there an keep learning new approaches. It's part of the fun of working in this field. Learning never stops.
Inkscape: What motivated you to take part in the About Screen Contest?
Chris: I missed the last contest. When Ozant Liuky, the last winner, mentioned learning some of his Inkscape skills from my tutorials, I decided to give it a try myself this time around.
Inkscape: How did you come up with the idea for your winning design in this year's, "1.2 About Screen Contest"?
Chris: As with most of my designs, I just started putting some circles on the screen to see what happens and before I knew it, I had had way too much fun. The initial design of a monster was more about me having fun but less suitable for an about screen. So I tried again with a different approach focusing on the text. One of the font choices was a rough cut and the numbers looked a bit like a rock face. Rock, island, and palm trees went together nicely. The new version as a destination for ideas or flying little robots. The rest was more fun, more details, more layers, and a lot more clipping masks. :)
Inkscape: Which feature or bug fix of the upcoming version are you looking forward to the most?
Chris: The new layers / objects panel is something I really look forward to. I like to structure my files and the layers. It might break the flow a little at times but I try to keep separate layers for my design elements. I want to play around with the patterns and see what's possible and the export dialog and the ability to export multiple elements at once would be a awesome help to my work with game assets.
Inkscape: If you could wave a magic wand, what one thing would you like to see in Inkscape (that isn't CMYK), and why?
Chris: It would be either a UI overhaul (some UI/ UX choices are 'unique', even though the new version looks promising), or an improved clipping group setup, with a simpler drag and drop, or, copy inside a clipping mask (it still feels like a hit or miss, at times).
Inkscape: What would be your best advice to anyone wanting to use Inkscape in a creative way?
Chris: Go for it… Don't be scared. Professionals using other tools might create intimidating designs in their tutorials and videos but a lot can be achieved in Inkscape. It might be a different approach but sometimes that leads to interesting new options. Have fun and explore the possibilities and set yourself achievable goals to keep the fun alive.
Inkscape: Lastly, where can people find you online and/or on social media?
Chris: I do write my blog (even if it has been a little neglected lately due to ongoing health issues) at https://2dgameartguru.com and post on my YouTube channel.
I am on Instagram and Twitter.
A BIG thank you to Chris Hildenbrand, for answering our questions, and for being a fantastic member of the Inkscape Community.
Once again, congratulations on winning the 1.2 About Screen Contest in 2022!
To the rest of the Community:
Remember, whenever you draw, and whatever you draw…
Draw Freely.
The interview was conducted by Inkscape Contributor Tim Jones.