Creating a game character concept Smithy
Inkscape Video Tutorial
In this video tutorial, I will be creating a game character concept in Inkscape from scratch. After having done a couple of timelapse videos on character creation in Affinity Designer, I was asked if it was possible in Inkscape as well. In short, it is! Frankly, the tools are very similar. It could be done just the same with CorelDraw, Adobe Illustrator, or a bunch of other vector design tools. If you feel comfortable with the program, the ideas will take shape. They might look a little different as different features influence your style.
Personally, I love using blurs and clip masks in Affinity Designer, and to be honest, I did struggle a little with similar features in Inkscape. Working in Inkscape felt a little rusty. So bare with me when I make mistakes in the video and the shortcuts don't always work the way I thought they do. :)


I hope you had as much fun with this video on creating a game character concept in Inkscape as I did. It was a challenge due to my rusty Inkscape skills but it was good fun. So much fun, that I couldn't leave the smithy like this and had to spend a little extra time on him to polish him some more.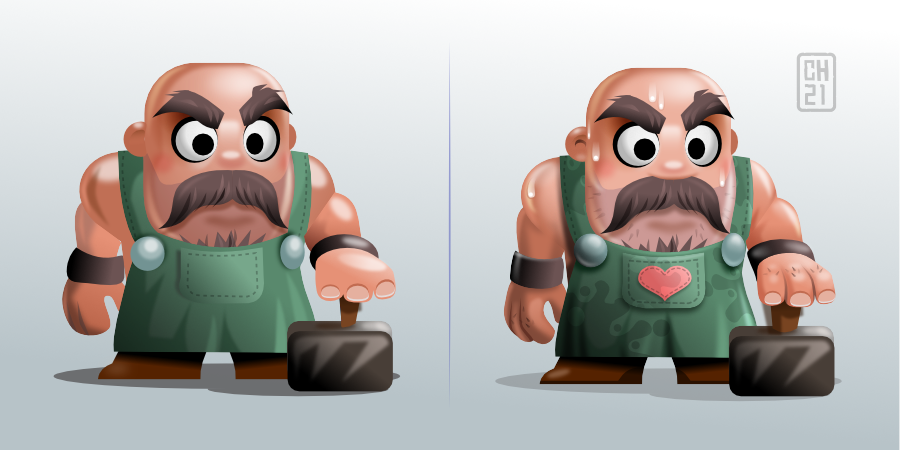 Finally, I designed to work on some backdrop for the character. This workshop is done in Affinity Designer thought – as it just flows better and I had fewer issues with the screen capturing software.


My 2c Conclusion
Ultimately, it's a matter of personal preference which tool appeals to you, and [sadly] the budget you have for your tools. Adobe and Corel are going down the subscription route [along with a lot of other developers] and I have to admit, I am no fan of the concept. For the price Serif is asking for their tools, Affinity Designer is a great choice. It's still missing some essential functionality to play in the same league as Illustrator, but I enjoy using it as it is. Inkscape feels a little less fluid and responsive. As a result, the workflow is not ideal for my artistic approach. Yet, being open source and free is unbeatable.