The Kraken
Video Tutorial in Inkscape & Krita
This tutorial consists of two parts. Nathan Lovato from GDquest and myself joined forces to show a quick and easy way to combine the character creation in Inscape with Krita for a finished and painterly touch of your game assets.
The idea is to design the creature quickly and with the flexibility provided by vectors and then use the vector shapes as masks/clips for the paint process. Krita offers the ability with the inherit alpha in groups, the alpha of the base layer functions as a mask for the layers inheriting the alpha – similar to old fashioned airbrush masking with cut out sticky film (an art I never mastered and simply lacked the patience for).
Note:
I have been using Inkscape v.092.1 and the Path Effects / Taper stroke for this tutorial to create the tentacles. Make sure you try out this great effect for things like digital inking, hair, spikes, etc.

Nathan uses Krita for his game design quest tutorials. It's a great, free paint tool and definitely worth checking out. His tutorials are a great way to learn the tool and I would highly recommend watching them.
This is the first video (on the character design in Inkscape):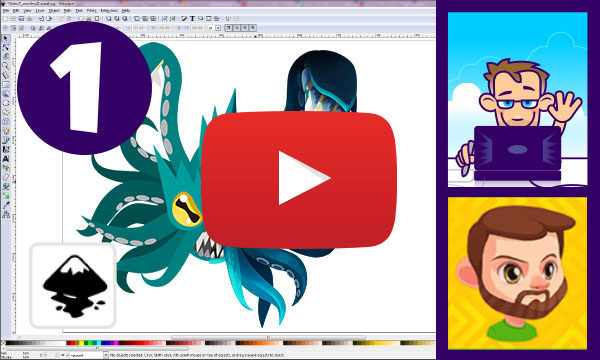 and the 2nd part by Nathan Lovato (setting up light, shading and detail in Krita):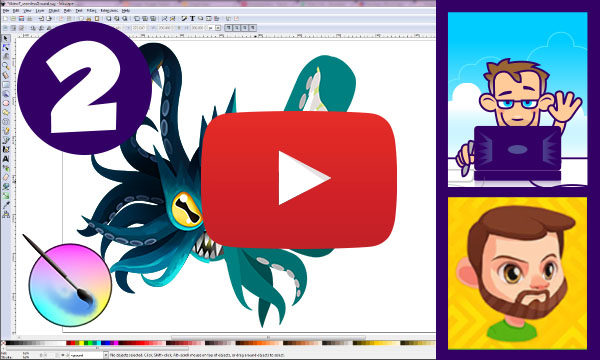 Doing a collaboration is always a great experience – even more so when you get the opportunity to work with artists that have a different skill set and style to learn from.
I had a lot of fun creating this video and I hope you enjoyed it too.
---
Check out the Inkscape and Krita source files
here
.