Space Ships
Outlook
I couldn't help myself and started playing around with a few of those shapes. Here's a quick preview where it can lead when you add some shading, colour, and detail.
The ship is taken from the "space ship – initial design" tutorial: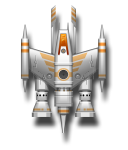 It's still vector shapes and you could make it smoother and lose the vector feel by adding softer shading and some dirt and grunge overlay in the bitmap tool – but that's a task for another day.
Once scaled down to a more game friendly size those edges tend to disappear.